Welcome
"Thinking Beyond Borders," the video introduction to the Forum.
In New York City on the 16th, 17th and 18th of November 2007, social, political and cultural organizations from Mexico, Canada and the United States met together with representatives from Africa, Europe and Latin America to launch the North American New Humanist Forum.
We began this process a year ago without a clear understanding of whether the region existed as more than a geographic and economic entity. We wondered if it would be possible to create a regional consciousness guided by the value of the human being.... more
What's New
Materials from NANHF 2007 now available for downloading2007-12-30
Statements from Working Tables now online2007-12-11
Each Working Table at the Forum produced a statement synthesizing its work and projecting images for its future.
First North American New Humanist Forum issues its concluding Declaration.2007-11-20
Over 300 people attended the events of the first NANHF and really, we're all very happy with how it went! A few photos are the activities are available here.
Video Greetings from Mexico 2007-11-16
New Humanist Forum kicks off with opening celebration at Museo del Barrio! 2007-11-16
Bolivian Ambassador to accept Forum's Tribute to Evo Morales 2007-11-01
Ambassador Hugo Siles Alvarado, Permanent Representative of Bolivia to the United Nations, will attend the Tribute to Evo Morales during the Closing Ceremonies on Sunday afternoon. Among other things, the tribute will highlight Bolivia's Constitutional rejection of War as a means of solving conflicts.
Europe For Peace organizes massive demo against missile bases; Italian representative to speak on Disarmament Panel. 2007-10-25
On Sunday Nov 18, Anna Polo, representative for Europe For Peace, will share her experiences with organizing regional opposition to the establishment of US military bases in Eastern Europe, with an eye to organizing regionally in North America as well.
Chief Raphael Picard of Pessamit Innu to speak on Cultures Panel. 2007-10-24
Chief of the Pessamit Innu in northern Quebec, Raphael Picard will be a Panel Speaker on Saturday 17 on the "The Role of the Cultures in the Future of Our Region."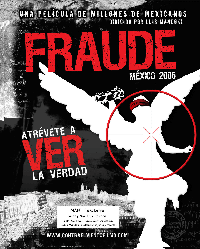 Mandoki's film 'FRAUDE: Mexico 2006' to have special screening at the Forum.2007-10-17
Renowned Mexican filmmaker Luis Mandoki's documentary on the turbulent 2006 election was dropped by Warner Bros. Distribution who feared the controversy it would create. The NANHF is honored to present this very special screening of "Fraude" on Sunday, November 18.
National School of Social Work (Mexico) to send delegation to the NANHF.2007-10-11
A 3-day Non-Violence Forum concluded today at the National Autonomous University of Mexico (UNAM), under the auspices of the School of Social Work. The Forum was opened by Carlos Arteaga, Director of the School, and also featured US representatives of the NANHF (Dennis Redmond and Nicole Myers).
Anti-war activist Daniel Berrigan to speak at Forum.2007-10-09
American peace activist, poet, writer and priest Daniel Berrigan has been engaged in numerous non-violent actions against war over the past 40 years, perhaps most famously in leading protests against the Vietnam War in the 1960s and as co-founder of the Plowshares Movement in the 1980s.
Bolivian President Evo Morales to Inaugurate Humanist Forum2007-09-24
President Evo Morales will inaugurate the Latin American Humanist Regional Forum in La Paz, Bolivia, on November 23-25, 2007. On his recent visit to NYC, President Morales was welcomed by U.S. humanists of the North American Forum.
Sponsors
Media Sponsors

---