Tomas Hirsch (keynote speaker)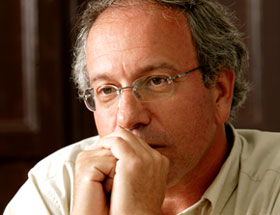 Tomás Hirsch, a humanist since youth, was the 2005 Chilean Presidential candidate for "Juntos Podemos Mas", the broadest left-wing alliance since the time of Salvador Allende. He surprised observers of all stripes by receiving more than a half a million votes and forcing a second round of voting. His irreverent, frank style and his uncompromised stance have positioned him as a new reference of the Left and above all, of the new generations.
The 2005 campaign was not Hirsch's first - in 1999 he ran as the Presidential candidate for the Humanist Party, which he helped found in 1984. Hirsch was a public promoter of non-violent resistance to General Augusto Pinochet's military dictatorship. He was one of the founders of the Coalition of Parties for Democracy, becoming the Ambassador to New Zealand when the Coalition won Chile's first democratic elections after Pinochet. Three years later he renounced his post and withdrew from the Coalition, after its leaders embraced the same social, economic and political model they had inherited from the dictatorship.
In 2006, Hirsch toured over 25 countries in Europe and Latin America, encouraging the union of progressive social and political movements, and organizing Forums for Regional Integration that seek to put forward proposals and references for all those who aspire to a profound social change. His participation in the North American New Humanist Forum is a clear example of that work.
Currently, Hirsch is recognized as the Spokesperson for Humanism in Latin America. He is very active in the integration of the peoples in that region, while at the same time creating the platforms for collaboration with other regions in order to advance towards the ideal of a universal human nation.
His political and social actions, as well as the reflections that form part of his new book, The End of Prehistory: A Path to Freedom, are inspired by the thought and works of Silo. Hirsch first encountered Silo's message in the early 1970s, and recognizes him as his spiritual guide.
The End of Prehistory includes a foreward by Bolivian President Evo Morales, and is being published as El Fin de la Prehistoria -- un camino hacia la libertad by Tabla Rasa.
He lives in Santiago, Chile, with his wife and two children.
"We Need to Redistribute Chile's Wealth Now".
Read an exclusive interview with Tomás Hirsch in the Santiago Times.
Daniel Berrigan, S.J.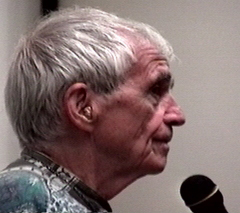 Daniel Berrigan is a Jesuit priest, poet, educator, social activist, playwright and lifelong resister to what he calls "American military imperialism." He is widely regarded as one of the region's leading peace activists of the past half-century.
In 1968, Berrigan traveled to North Vietnam with Howard Zinn to bring home three U.S. prisoners of war. Later that year he made national headlines when he and eight others burned draft files in Catonsville Maryland. In 1970 he spent four months living underground as a fugitive from the FBI.
In the early 1980s he helped launch the international anti-nuclear Plowshares movement when he and seven others poured blood and hammered on warheads at a GE nuclear missile plant in King of Prussia, Pennsylvania.
Throughout his life, Berrigan has maintained a high level of social activism around a number of causes, including protests against American intervention in Central America, the 1991 Gulf War, the Kosovo War, the U.S. invasion of Afghanistan, and the 2003 invasion of Iraq. He is a contributing editor of Sojourners Magazine.